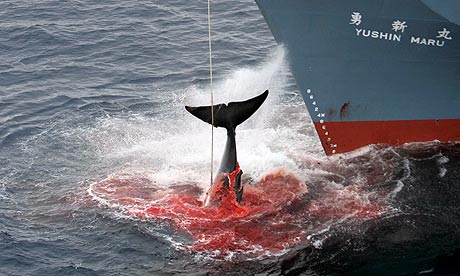 A Japanese ship injures a whale with its first harpoon. Photograph: Kate Davidson/EPA/Corbis
Japan's whaling fleet has left port under heavy guard as it prepares to kill almost 1,000 whales in the Antarctic, where more clashes are expected with members of the Sea Shepherd marine conservation group.
Three ships, led by the 720-tonne Yushin Maru and accompanied by a fisheries agency guard vessel, left Shimonoseki port in south-western Japan amid accusations that the fleet was taking cash intended for fishing communities hit by the March earthquake and tsunami.
According to campaigners the government used 2.28 billion yen (£19m/US$30m) from the earthquake recovery fund, on top of its existing $6m annual subsidy, to pay for this year's hunt.
"It is absolutely disgraceful for the Japanese government to pump yet more taxpayer money on an unneeded, unwanted and economically unviable whaling programme, when funds are desperately needed for recovery efforts," said Junichi Sato, the executive director of Greenpeace Japan.
"The whaling programme is a black mark on Japan's international reputation, and a black hole for taxpayer money. Pouring billions of yen into Antarctic whaling during this time of crisis is downright shameful. Japan cannot afford to waste money on whaling in the Antarctic when its people are suffering at home."
The fisheries agency said the use of the fund was justified because one the towns destroyed by the tsunami was a whaling port.
Reports said several Japanese groups had written a letter to the prime minister, Yoshihiko Noda, protesting against the use of recovery cash.
"We demand the government not waste any more taxpayers' money on the whaling program but instead spend this money on projects that actually help the people, communities and region affected by the tragic March 11 earthquake, tsunami and nuclear crisis," the letter said.
"It is clear that the Japanese government's stated goal of resuming commercial whaling in the Southern ocean is unachievable. The whaling program cannot survive without taxpayer handouts."
The fisheries agency would not confirm that the fleet had left or say how long it would remain at sea. Japan's whalers usually leave for the southern ocean in December and return in April.
For the past six years the fleet has clashed with Sea Shepherd activists, one of whom was given a suspended prison sentence last year afterboarding a whaling vessel to protest against the destruction of thegroup's hi-tech speedboat.
Last year Sea Shepherd claimed a significant victory after its campaign of harassment forced the fleet to return to port a month early with 172 whales, one-fifth of its intended catch.
Sea Shepherd had pursued the fleet through treacherous waters, hurling rancid butter on to the decks of whaling ships and positioning its boats between the harpooners and their prey.
This year the whalers plan to kill more than 900 minke whales and about 50 fin whales, reports said. Commercial whaling was banned in 1986 but the International Whaling Commission (IWC) permits Japan to kill a limited number of whales for "scientific research".
Environmentalists condemn the practice as commercial whaling by another name, since the IWC allows meat from the research expeditions to be sold to restaurants and supermarkets.
Robbie Marsland of the International Fund for Animal Welfare in London said: "We are disappointed although not surprised that Japan's whaling fleet has once more set sail for Antarctica to slaughter more whales. The reality, though, is that the whaling industry is dying and this is its last gasp. The economics show that whaling is unprofitable and a bad policy for the Japanese people as well as for whales."
Last year the IWC failed to agree on a proposal to allow Japan to catch whales in coastal waters in return for reducing its catch in the Antarctic.
Japan's annual cull has caused friction with Australia and New Zealand, which have again called on the fleet to abandon its hunt in an area they class as a whale sanctuary.
Related articles